Taekwondo Patterns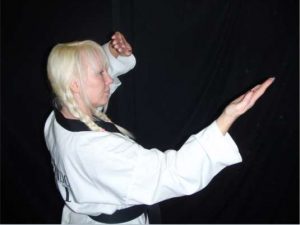 In other styles Patterns are called 'Kata', 'Forms' or 'Drills'. Patterns consist of various defence and attack techniques against imaginary opponents.
They are the 'putting together' of individual techniques to practice and perfect the techniques and form the art.
The patterns start from beginner level all the way up to 6th Dan black belt. Each pattern introduces new and sometimes harder techniques as training progresses.
The reason for 24 patterns as quoted by the late founder of Taekwondo.
"The life of a human being, perhaps 100 years can be considered as a day when compared with eternity. Therefore, we mortals are no more than simple travellers who pass by the eternal years of an eon in a day.
Here I leave Tae Kwon Do for mankind as a trace of man of the late 20th century.
The 24 Patterns represent 24 hours, one day, of all my life."
General Choi Hong Hi 9th Dan
(1918-2002)
Master Slater in competition.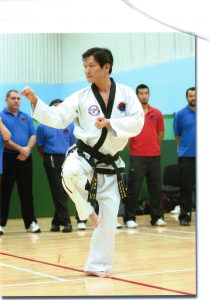 I have known Master Slater for over two decades now, I run clubs in Hertfordshire and have Master Slater conduct seminars for us. I have spent 35 years in the art but Master Slater always impresses.
Master Snow VII

I attended a class at Essex Martial Arts a few years back I now attend a class on a regular basis. As an instructor myself I find Master Slater and his team very welcoming and knowledgable
Mr Lapthorn VI
Book your FREE trial now - And join our growing family!
If we are unable to answer your call simply leave a message we will contact you as soon as possible. Feel free to simply turn up as you will always be welcome whether you book up or not.
Call Us Anytime:

 07754 759666
9,767 total views, 2 views today