Combat Bullying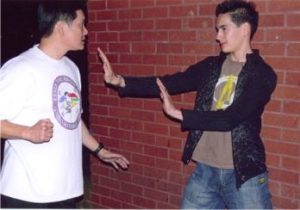 Let's talk about the bullied:
Victims are NOT born.
Victims are selected.
Bullies do not choose anyone to bully.
Bullies select their victim on how they behave.
Bullies select EASY targets.
At Essex Martial Arts we will try and make you into a HARD target. This is done by teaching you self defence skills that will improve your self confidence and behaviour in a positive way.
We will generate your mental and verbal skills to be pro-active, commanding and challenging in a courteous manner.
Will we teach you how to produce the correct body language that will show you as a harder target and not a potential victim. And if any unavoidable confrontation develops to be in a better position to defend yourself. Essex Martial Arts has successfully seen many a bullied or under confident person change for the better. This is achieved by interaction with other students, encouragement and building on self belief. The strongest catalyst for your transformation is the physical confidence that comes with training and the positive attitude that we instil into you.

I have known Master Slater for over two decades now, I run clubs in Hertfordshire and have Master Slater conduct seminars for us. I have spent 35 years in the art but Master Slater always impresses.
Master Snow VII

I attended a class at Essex Martial Arts a few years back I now attend a class on a regular basis. As an instructor myself I find Master Slater and his team very welcoming and knowledgable
Mr Lapthorn VI
Book your FREE trial now - And join our growing family!
If we are unable to answer your call simply leave a message we will contact you as soon as possible. Feel free to simply turn up as you will always be welcome whether you book up or not.
Call Us Anytime:

 07754 759666
8,992 total views, 4 views today