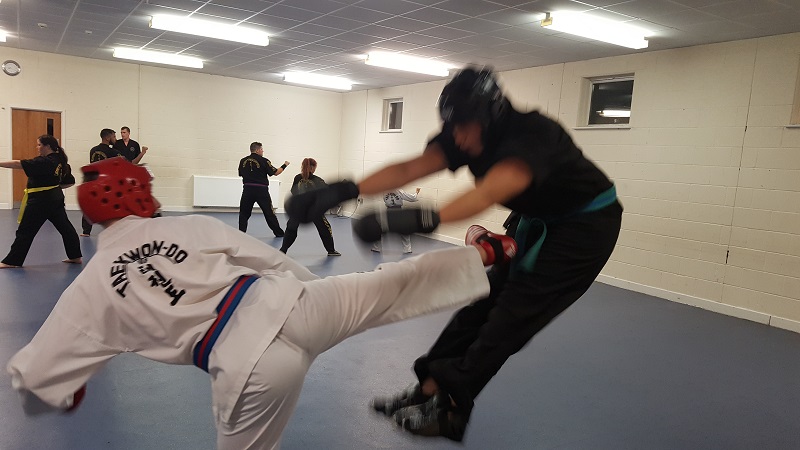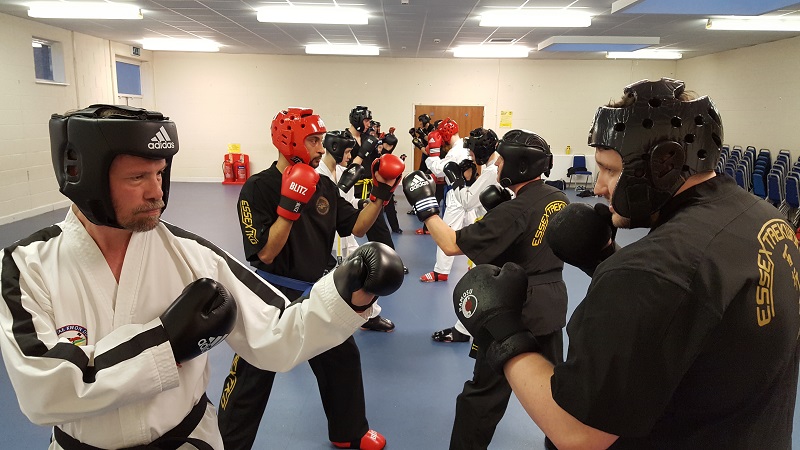 Sparring
Sparring is the use of the art in a controlled situation.
You can hit pads as hard and for as long as you like, but nothing beats defending and attacking a moving opponent who is also trying to hit you too!
Sparring improves realistic application of the tools you now have along with range, focus and timing which are important attributes for competition sparring or real self defence.
All grades spar together in an open forum to accelerate their learning expertise.
Essex Martial Arts has a good reputation for producing excellent fighters who compete in the tournament circuit.
Sparring is done at a semi contact level. This means LIGHT contact. It takes greater skill to use semi contact impact than full
Students all wear semi contact gloves, foot pads, shin pads, head guards etc.to reduce the risk of injury.

I have known Master Slater for over two decades now, I run clubs in Hertfordshire and have Master Slater conduct seminars for us. I have spent 35 years in the art but Master Slater always impresses.
Master Snow VII

I attended a class at Essex Martial Arts a few years back I now attend a class on a regular basis. As an instructor myself I find Master Slater and his team very welcoming and knowledgable
Mr Lapthorn VI
Book your FREE trial now - And join our growing family!
If we are unable to answer your call simply leave a message we will contact you as soon as possible. Feel free to simply turn up as you will always be welcome whether you book up or not.
Call Us Anytime:

 07754 759666
9,441 total views, 4 views today