Essex Martial Arts Unleash your true potential
If you are looking for an activity for you and your family you have come to the right place. We offer classes suitable for people 13 years of age plus. (10 to 12 years old if a parent or older sibling trains too) Unleash your true potential and come try a FREE trial session with no obligation.
We are a Taekwondo based martial art.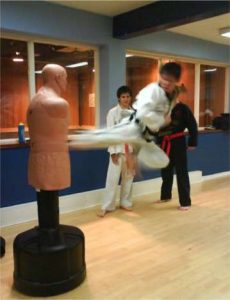 Taekwondo is one of the best stand up striking, punching and kicking arts which is suited for self defence in today's modern world.
Translated from Korean:
'Tae' literally means foot
'Kwon' means the hand or fist
'Do' is the art or way of
At Essex Martial Arts not only will you learn martial art skills that will build your confidence, fitness and stamina. We will also develop your positive mental attitude. This is accomplished by the grading system for rank promotion and the tuition not only from Master Slater but other black belts and your fellow students.
Essex Martial Arts has something to offer every one, irrespective of their current level of ability and fitness.
Taekwondo is famous for it kicks. Out of all the Martial Arts, it probably has the most variety of kicks and is responsible for the advancement of many kicks in other styles, Bruce Lee himself took up Taekwondo for it's kicking ability.

I have known Master Slater for over two decades now, I run clubs in Hertfordshire and have Master Slater conduct seminars for us. I have spent 35 years in the art but Master Slater always impresses.
Master Snow VII

I attended a class at Essex Martial Arts a few years back I now attend a class on a regular basis. As an instructor myself I find Master Slater and his team very welcoming and knowledgable
Mr Lapthorn VI
Book your FREE trial now - And join our growing family!
If we are unable to answer your call simply leave a message we will contact you as soon as possible. Feel free to simply turn up as you will always be welcome whether you book up or not.
Call Us Anytime:

 07754 759666
10,796 total views, 2 views today