Essex Martial Arts Unleash your true potential
If you are looking for an activity for you and your family you have come to the right place. We offer classes suitable for people 13 years of age plus. (10 to 12 years old if a parent or older sibling trains too) Unleash your true potential and come try a FREE trial session with no obligation.
Master Slaters History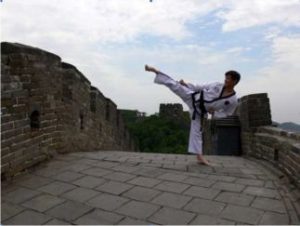 Name: Master Slater
Current Rank: 8th Dan
Born: Hong Kong, China
Started Martial Arts: 1975
Started Taekwondo: Feb 1983
Other experience: Wing chun Kung Fu, Boxing, Kick Boxing, Judo and Karate.
He started his martial arts journey while growing up in Hong Kong. It was not until 1983 that he started Taekwondo.
Master Slater is the complete Taekwondo instructor.
He has competed in competitions for over 25 years in the main disciplines of sparring, patterns and destruction. Winning gold, silver and bronze medals. He is an expert in practical self defence and has taught woman's group who have suffered domestic violence,
Master Slater has appeared in numerous magazine articles and wrote the forward for world famous set of books 'The Encyclopedia of Taekwon-do Patterns' by Stuart Anslow and appears in Volume 3 demonstrating some of the most senior Taekwondo patterns for students to learn and practice from.
He also appears in the history behind the patterns book by the same author named 'From Creation To Unification'

I have known Master Slater for over two decades now, I run clubs in Hertfordshire and have Master Slater conduct seminars for us. I have spent 35 years in the art but Master Slater always impresses.
Master Snow VII

I attended a class at Essex Martial Arts a few years back I now attend a class on a regular basis. As an instructor myself I find Master Slater and his team very welcoming and knowledgable
Mr Lapthorn VI
Book your FREE trial now - And join our growing family!
If we are unable to answer your call simply leave a message we will contact you as soon as possible. Feel free to simply turn up as you will always be welcome whether you book up or not.
Call Us Anytime:

 07754 759666
9,439 total views, 4 views today